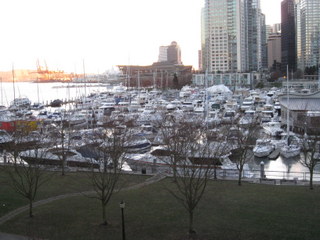 From Vancouver overlooking the harbour in Westin Bay Shore Hotel – my thoughts about service Canadian style
I flew in yesterday from London Heathrow non stop to Vancouver to stay in the hotel Westin Bay Shore overlooking the harbour with its beautiful views, and it made me think about my previous experience of Canada.
Both times I flew with Air Canada – and I have to admit I was not expecting much this time, based on my previous experience.
Last time the plane was full of passengers who had an amazing amount of hand luggage that when I got on the plane at Heathrow, there was no space for my hand luggage in the overhead lockers, and the team were just not interested in the fact that I spent 8 hours with my feet on top of my hand luggage. So much so that I flew back business class to be assured of a decent journey.
This journey was much better, and the team really made an effort to engage with us – so much better than I  experienced before – a good omen hopefully.
Last time I visited Canada I flew to Calgary and then onto Vancouver on a business trip to Whistler. Although I was not impressed with my journey from Heathrow, I could not fault my stay at the Sheraton Suites Hotel Eau Claire in Calgary.
GREETING
When I arrived I was astonished to see the receptionist team look up quite soon after I came in the front door and smile at me. When I got to the counter, one enquired Mr Ogilvie? Surprised I answered "Yes" and she responded "we have been expecting you" – now I never did find out how that happened.
After noting down my details, the receptionist (not the porter) walked me to my room, and explained about the room.
WOW
In the room, I could not help but notice the cowboy boot made out of chocolate filled with grapes – which I quickly tasted until only the sole was remaining 🙂
When  I returned to the room, I found my boot had gone!
WOW – Not to worry, it had been replaced by a chocolate cowboy hat flowing with chocolate covered strawberries.
By the side of the bed was a new bed side mat with a moon motif and also a herbal tea sachet and chocolate left on the pillow with a "have a good sleep" message.
I was being given special attention and I loved it. 
SYSTEMS
I asked management team member Fiona Dobbs to explain what systems they were using and , sure enough, everything was part of an elaborate and carefully orchestrated customer care system.
The greeting system was called ARRIVAL , and the A stands for Acknowledge visitor between 20 or more yards from approaching the front desk.
The R stood for Recognise etc etc and I realised what came across to me as individual brilliant service was in fact brilliant team systems – I now talk about them all over the world and will be returning there on Friday 13th to see what has changed – hope I will not be unlucky.
I have started a "crusade against mediocrity" and launched a new Linkedin group called "Standing out from the crowd – Being M.A.D. not S.A.D." (being Magnificent and Dazzling not Satisfactory and Dull) and I will be featuring Sheraton Suites Eau Claire in Calgary – not only in this group but in my next book
Who do you know who stands out from the crowd?
I am keen to hear from you.