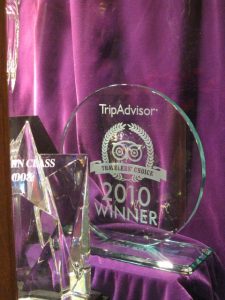 To Panorama Mountain Village via Sheraton Suites Calgary, Canmore, and Banff
A nervously expectant visitor to Canada (Part 2)-& Why Thrifty is not particularly nifty !
Following a great experience of friendly "Canadian Culture"  in Vancouver, we headed for The Sheraton Suites Hotel at Eau Claire Calgary, where I previously received the best example of customer care in a hotel that I have ever received any where in the world.
I did not know if they still had their A.R.R.I.V.A.L. system in practice or had they a better version.
Well we arrived at the front desk but, unlike my previous experience, nobody looked up and acknowledged me before I got to the desk – disappointing.
The young lady on the front desk was very friendly as I would expect from any hotel and arranged for the porter to take my luggage to my room (second disappointment – previously I was walked to my room by the receptionist – the only other place that has ever happened to me was in Borneo)
The suite was fine but no chocolate goodies like the last time (clearly I was not to be receiving any special treatment this time) – disappointing.
What I would really have loved, and was hoping to receive, was a welcome from the receptionist to show they had systems that recalled I had stayed before (and possibly had received special treatment before) "Welcome back Mr Ogilvie – we are delighted that you have chosen to stay with us again when you had so many other hotels to choose" or something similar – disappointing.
That evening they did not change down my room but, to be fair, they might have done, but as I was in the room at the time, and a team member knocked on my door with some lovely fresh apples , some mint chocolates and a sachet of "sweet dreams" de-caffienated herbal tea to help me sleep better – that made me feel a lot better about the hotel.
There was no bedside mat changed like last time, and there was no personal message wishing me a good sleep.  However there was a complimentary shoe shine overnight which also made me feel good.
At the Westin Bayshore I did not receive fresh apples or chocolates, or shoe shines, so that was a positive.
I looked at the lovely awards they proudly display in their cabinets – I note no awards have been received since 2010 and wonder if there has been a change in management where those little small things that make a difference have been neglected – they are still a great hotel that I will happily revisit, but not as good as the last time – what a shame!
However, The Sheraton Suites concierge Patti was brilliant and she worked hard to find me a car to hire, phoning various providers to get me a 4×4 SUV. She also got me to do an internet search while she was phoning around.
THRIFTY CAR HIRE – what a mistake!!!
Patti recommended Enterprise but when I said that Thrifty came up with an offer 100 dollars cheaper on the internet, she phoned them for me and waded through their up selling from Central Office  to provisionally book me a car for the next week.
Next day we walked round to Thrifty to find that the offer did not include any insurance cover at all and their cover was going to cost an additional $480, which I was told was unavoidable because I was travelling to a mountain area. The cheaper alternative was to accept a $500 excess which he explained was crazy as we were driving to the mountains.
Now I always half expect my insurance cover to be upsold or upgraded, but I have never had a quote without any insurance before. Naive? Maybe?
I was then sold a full tank of petrol because I was told they were 10% cheaper than I could buy at the service stations – I subsequently find that there is only two thirds of the tank full!
Did I feel conned? – you bet I did! 
Look at the photos of the car – they had not even bothered to have it washed or cleaned inside where kids had obviously been in the back judging by the crisp remnants on the seat and the mud footmarks on the back of the seats in front.
Before I took the car – I asked to be shown the controls as I did not have the Toyota Rav I had ordered, but instead I was given a Jeep. The Thrifty manager apppeared to have no clue about the car and had to keep referring to details on his phone.
I tried to clean the windscreen but there was no liquid coming out of the washers. It took us 5 minutes how to find out how to open the bonnet hood. The washer reservoir was empty so he found a container to fill up the reservoir a quarter full! (I had to buy a new container at the next service station I found)
So I thought I would check the oil – it was low – "don't worry he said – that is only because the engine is not warm" –what appalling service!
At least one tyre pressure was low – I could only conclude that the car had not been properly prepared to be hired out. (When writing this blog, I still have to travel back to Calgary through the snowy mountains – so I hope the 4 wheel drive actually works otherwise we might not get to the airport in time)
Well – poor old Patti the concierge at Sheraton Suites was mortified – she had never used Thrifty before and all the car companies she used before included insurance in their price – not her fault, she had tried hard to find a deal for us – she had recommended Enterprise only for me to take the lower price – and certainly will be dissuading her customers from using Thrifty in the future.
CANMORE
Onto Banff via a little town called Canmore– we were impressed how the town provide for their mountain bike visitors not only with complimentary bike pumps in the street but also tool kits to do repairs (see the pictures) – more like the Canada we have grown to love.
BANFF
Staying at The Aspen Lodge, we were delighted with the room and facilities but more importantly their friendly front desk team. We had an evening meal at a restaurant in Bear Street called Saltlik Steak House – food was fine but it was our waiter Leroy who impressed us most.
We wanted a Malbec red wine from Argentina to go with our steak but he recommended a different wine that cost $15 more – he had engaged with us over the menu and impressed us so we went with his recommendation. The wine was too young and a bit "tight" so he recommended it should be decanted – unfortunately it made little difference.
He was mortified – all the food he had recommended was superb – and as he felt we were disappointed with the wine, he said "I have made the decision to offer you a free desert as a way of saying sorry to you"
We said that was unnecessary because the wine was ok – simply not better than  the Malbec we knew – he insisted and we accepted – ok this was nothing really out of the ordinary for a restaurant but restored my faith in the friendly Canadian culture to which I had got used. Big shout out for Leroy. 
PANORAMA MOUNTAIN VILLAGE – our weeks skiing holiday
We checked in to this lovely resort and were sold our ski passes by the reception, at the daily rate despite me asking if there was no package deal available. I subsequently checked with the customer services ticket office at the ski slopes and they confirmed that there was indeed a heavily discounted season card saving me over $200 – they were very apologetic and said "we need to communicate with the front office who are obviously a bit inexperienced" – great, that was all we wanted to see, and we were also given a 10% discount card to use with the resort facilities (as well as 15 free coffees/hot drinks)
This fabulous attitude has been mirrored throughout the resort including the restaurants where we have been dissuaded by waitresses from buying too much because of the size of their dishes, rather than upsold like would normally happen in UK.
SHERATONv WESTIN revisited
Following our visit to both hotels we received email messages thanking us for staying – and Sheraton asked me to complete a feedback questionnaire online, so my views have been shared with them.
I particularly liked the language used by Westin – they said some thing simple like "Stay well" – nice.
Both hotels are good hotels that I enjoyed and will be happy to revisit.
CONCLUSION
Apart from our Thrifty "shifty" experience, and a particular disappointment about the lack of consistency in the customer experience from Sheraton Suites, I do believe there is a cultural difference in Canada, when I compare my experiences in Europe and particularly UK.
I realise one should not generalise, and there are some fabulous exceptions in UK and around the world, which I hope to continue to celebrate in this blog as well as in our linkedin group "Standing out from the Crowd"
However this great attitude seems to be too common over in Canada to be unusual – or maybe I have just been lucky?
What do you think?
Thrifty Car Hire
Canmore – Canada