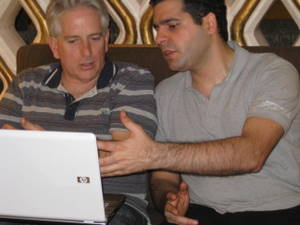 Initial learning points about advertising in a recession – in Iran or anywhere else
One of our first conferences in Iran was the conference for Aftabnet, a very switched on advertising agency in Tehran
This was a great example of teamwork in action
We were extensively briefed by Mazyar the managing director and his assistant Banafshe, months before we arrived in Iran
They asked for copies of our outline presentations as we were a team of five speakers – two canadian Michel Neray and Bob Urichuk, one South African Richard Mulvey, and two brits me and Chris Davidson – in doing so we all liaised with each other to avoid any duplications
We visited their offices two days before the conference to better understand their company which, when added to the extensive research we had all undertaken into the Iranian market and in particular into TV advertising in Iran, represented an impressive investment of time by a team of speakers determined to deliver a great conference for our clients
As part of my particular research I met with Steve Stretton one of the co-owners of AIS , a leading advertising agency in the west end of London. Steve not only shared with me some massively useful statistics with case studies of companies who had increased or reduced their advertising in previous recessions, but also introduced me to a really useful book which I can recommend to any business wondering what type of marketing they should be doing in  the recession
I will be sharing some of these points in future blogs, but to answer the theme of the conference "To be or not to be ……… marketing in a recession?" – the answer quite categorically is YES
The evidence points undeniably to the fact that those companies who maintained or increased their advertising spend in a recession, had a significant improvement in market share compared to their competitors who reduced their marketing spend
So the question to you is – are you tempted to or have you cut your marketing budget?
If so, our research shows the correct business decision is not to cut your marketing spend but to make sure it is spent in the most effective manner
How? We will look at this in more detail in future blogs.