The Original Pineapple Man – from Barbados
In September I went on holiday with friends to Barbados – a very small island in the caribbean with a delightful laid back population heavily dependent on tourism.
As is common with so many holiday destinations around the world – we were regularly pestered by locals trying to sell us a range of goods – some nice – many slightly "tacky" – and after a while they began to become a pain in the neck, when you are continually interrupted when talking to others – apart from one.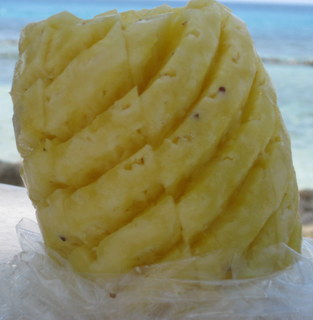 This guy bumped into us on the second day of our holiday while we were walking along the beach and never tried to sell us a thing – all he did was to welcome us to Barbados by saying "You are new around here aren't you? Welcome to Barbados – I hope you have a lovely holiday"
He went on to warn us because the tide was very high – "be careful when walking under those trees over there because if any sap falls on you – it will cause your skin to blister"

As you can see from the pictures below he is an eccentric looking man, like so many we encountered and we were amazed he had not tried to sell us anything – in fact all he did was ask "how long are you here for?" (remember this later –  we told him 10 days)
Cynically we asked him – so what do you sell – he just smiled and said "I dont sell anything – people buy pineapples from me"
So whats a good day for you – he laughed again and said "Two pineapples" – this time we laughed and asked how much the pineapples cost – he answered " $200 " – and we all burst out laughing, as he wished us well and we carried on with our walk along the beach.
During the week he bumped into us several times exchanging pleasantries until about day 6 later in the week, when he asked if we were interested in "tasting one of his pineapples"
We asked "Are they made of gold?" – "No" he explained "they are a work of art, not an ordinary pineapple you will get from anyone else" – we said maybe tomorrow and went our separate ways – no pressure at all – he was an absolute joy to talk to
Anyway, sure enough the next day, he bumped into us by the hotel where we were saying and told us he had brought along a delicious pineapple. He ceremoniously got our his silver knife from a container and started singing in rhyme – simple little rhymes like – "These pineapples are the best , they are easy to digest and great for your chest"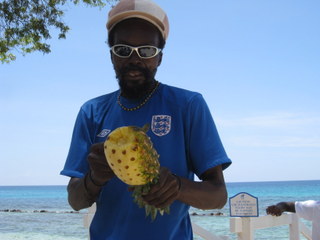 Watched by a gathering crowd, singing away he ceremoniously sliced off the skin and carved out the notches in the fruit, never once touching the edible bits with his hands, and cut the pineapple into six slices for the six in our group – he was right – it was absolutely delicious – but we had not paid!!!

So I asked him "How much?" – he replied as we had been such nice people we could have it at a special price of $100 – I just laughed and said "How about I give you $25?" 

He reached out and smiled , shook my hand, took the money and said those immortal words that I remember so well "Nice doing business with you"

I realised then what had happened and knew we had been prepared for this sale – two pineapple sales a day would be fine for him especially if some people did occasionally pay him the full $200 – but even at $25 he was doing ok.

I just had to share the story with you – what a great salesman!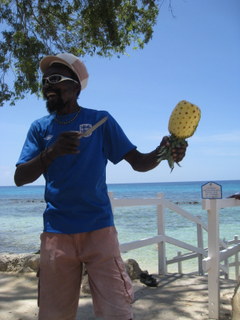 He checked how long we were going to be around for, he never pressurised us , he befriended us , and he entertained us so much that he never had to sell to us, he only had to "invite us to buy" from him.  It was a pleasure for him and also a pleasure for us to do business together.
Now can't we all learn a lesson here in these days of pressurised sales and heavily discounted prices.

People like to deal with people they like – if you make the experience of dealing with you a pleasant one, not only will people pay more than they would normally do , but they will also tell the world about you – and do your marketing for you – like I am doing – telling you about my new found friend .


Mind you – he has so many other friends that he has his own Facebook page and youtube entries posted by his many fans 

So how do you stand out from the crowd?

Do you have any great stories to share of brilliant people or businesses like this?