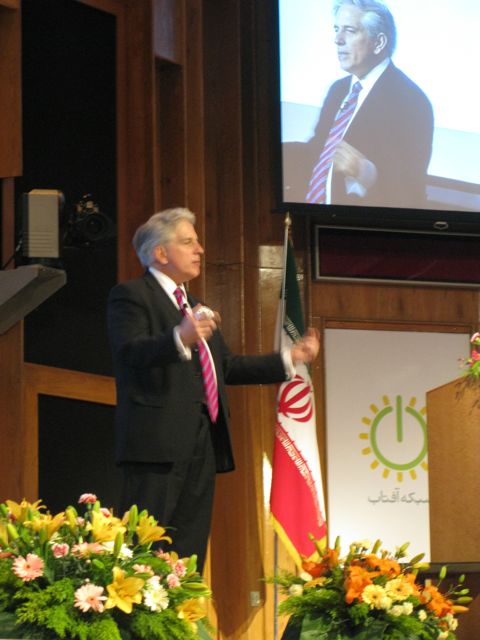 2010 can be good for all businesses who do the right things
IF YOU WANT TO BE ABLE TO … IT WILL BE UP TO YOU!
HAPPY NEW YEAR
My international speaking assignments in 2009 started in Iran and subsequently I spoke in many places around the world, most recently in December in Dar es Salaam in Tanzania.
My blunt message to most of the audiences was .. Do not even dream of relying on anyone else other than you (and of course your team) to make 2010 a success
If you want to be able to .. it will be up to you!
These were my 11 Golden Rules for success in 2010
1. Define your "what" you want to be able to achieve in your lives in the next twelve months.
First you must plan what are the important priorities for you and your family, and only then when you have done that you must plan your business priorities around your life, instead of fitting your life around your business, as so many people do.
2. Meet with your team and agree clearly defined (S.M.A.R.T.) goals for the business. By doing this with your team, the goals will be joint goals also owned by the team, and therefore they will be more likely to help you achieve them.
3. Cash Flow – this must be the priority more than anything else for the next two years and, if there is a conflict between profitability and cash flow, opt for wahtever decision will improve cash flow. You must not feel you can rely on your friendly bank manager to be there automatically to help you if in difficulties , the way they have in the past.
Hopefully they will be there to support you, but your local manager cannot do anything about the unsympathetic directors in their ivory towers at head office that impose lending criteria on them.
In my opinion, it will be safest to assume they will be unlikely to help, and hope the actual position will be better than that, if and when a need arises.
4. Your Sales – Do NOT make the mistake of cutting your prices like so many businesses are doing, unless all you have to sell is effectively a commodity, where the only way you can differentiate yourself from your competition is price – but then you are likely to be starting to die slowly if forced down that dangerous path.
5. Preserve your margins – concentrate on selling what your customers WANT not what you think they NEED, and charge the right price for those goods and services
6. Think Pareto's 80:20 rule – concentrate on looking after the 20% of your customers that give you 80% of your profits, and reduce your overheads accordingly
7. Think VALUE not cost – today's customer is more value conscious tahn cost conscious. Nobody wants to pay any more than they have to, but research shows they are more aware of value for money than ever before.
8. Avoid being a W.I.N.P. – too many business owners are terrble WINPs! too many  times they come across an obstacle and they allow that obstacle to become an insurmountable mountain in their minds.
They listen to ther negative thinking friends and relatives who would never take a risk in their lives, and always find the doom and gloom in in every situation.
They allow themselves to become WINPs – Willingly Influenced by Negative People
True entrepreneurs plan, focus and take action – and are not distracted from their paths.
9 Dont be S.A.D. – get M.A.D. ! – what else can you do to get more people talking positively about you and your business?
If you want more people to talk about you and your business – for goodness sake give them something to talk about!
If you can avoid giving a SAD service (Satisfactory and Dull like so many other businesses) and instead offer a MAD service (Magnificent and Dazzling) you will find everyone will talk about  you, and you will attract new customers, and guess what? ………… you will spend much less on marketing because your customers will spread the word for you.
10. Word of Mouth – How often do you ask your happy customers to refer new customers – do it now – it is the cheapest and most effective form of
marketing – brilliantly simple but essential in a recession – as long as you have some happy customers, and finally
11. Use the Power of P.R. – My accountancy firm OBC The Accountants have a 17 page handout "Publicity for Pennies" about how to use PR effectively. We are offering this free as a New Year's present to any business who would like to generate relatively cheap publicity for their businesses in 2010.
If you want a copy, email me at mo@obcaccountants.com  and ask for "Publicity for Pennies please"
Happy New Year