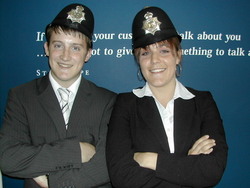 Customer Service is not about customers – so Graham Jones says?
11 Sep 12
Below, with Graham's permission, I reproduce his thoughts on Customer service.
I was away this weekend with 3 other businessmen in Majorca, and we were unsure what to expect from the restaurants and golf courses we visited, bearing in mind the tough recession they are experiencing at present in Spain.
First, judging by the number of yachts and ships in Palma marina, one wonders if the recession has actually reached Majorca.
However, visiting three different golf courses, we were shocked by their appalling condition, which would seem to indicate a lack of investment in greencare team and products.
What about the reception team – well apart from the last one who gave us a free extra buggy and one buggy at half price because he explained there were three greens he was very embarrassed about, none of the others managed our expectations in advance – just took our money – thank you very much.
This last "course manager" was exaggerating – there were at least 15 greens and fairways which should have embarrassed him, but we forgave him, because he at least had forewarned us and managed our expectations.
Apart from that, no smiles and his body language showed he did not like doing what he was doing.
As Graham makes the point in the article below, customer service starts with you, not the customers – act like and demonstrate that you enjoy what you are doing and it will reflect in your better customer service.
A smile costs nothing but is contagious – as is a positive attitude – and all the golf courses needed to remind their front of house team about this – we were on a weekend break and easy  to please, and yet we left feeling depressed about these attitudes (apart from the last course)
What about the restaurants?
The tapas bars were hopeless and you just felt you were part of a "serve it quick and get them out quick" which is so unlike what we have previously been used to.
One restaurant served great food, but we were made to feel that they were doing us a great favour because we had the nerve to ask for a table without booking in advance – it would have been so easy to thank us for coming to use them rather than one of the many others surrounding them to make us one of their advocates – the smiles were missing again.
I hate saying it, and it applies so often in this country as well – no wonder they are in the state they are if they are not investing in some free "smile therapy" for their customers – we are just not used to it in Spain, and we go at least twice a year, which makes it more noticeable.
It is a chicken and egg situation – the economy makes you depressed which makes your service depressed  – but it does not have to be.
So my question to you – do you need to get the "Smile Police" checking your team to make sure you get your customers on your side, and improve their perception of your service?
3rd September 2012 By Graham Jones
Categories: Internet MarketingTags: 2012, customer service, customers, emotions, good customer service, happy, olympics, positive, sales,sales staff, smile
Please add your commentShare on twitterShare on linkedinShare on facebookShare on google_plusoneMore Sharing Services
Directing spectators at the Olympic Village entrance (C Michael Hogan) / CC BY-SA 2.0The "Games Makers" at the London 2012
Olympics have become synonymous with excellent customer service. Indeed, these volunteer helpers have been highlighted in speeches at the Opening and Closing Ceremonies and have received rapturous applause and a standing ovation from 80,000 people in the Olympic Stadium. Every ounce of press coverage about these smiling, happy people seems positive.
At the same time, everyone who has visited the London 2012 Olympics or the Paralympics appears to be immensely positive too. Each time some member of the public is interviewed on the radio or TV and they get a chance to talk about the Games Makers they simply sing their praises. On the radio you an even hear them smiling. It seems that the whole Olympic experience is just amazingly positive, vibrant and happy.Of course, behind the scenes there is bound to be concern, worry and mistakes. On top of this, you cannot possibly have hundreds of thousands of people who are all simply wonderful; there are bound to be grumpy people asking directions, rude individuals who don't say thank you and downright nastiness.
Yet, the Games Makers smile away, being positive and charming.It is sometimes tough being positive when your customers are not so nice.
Ask anyone who works in retail. However, as the Games Makers show us, when you are positive and smiling for the most part your customers also end up being positive and happy. And when they are positive and happy, guess what, it makes you smile and fell good.Indeed, new research shows that good customer service has a significant impact on the sales person.
When sales staff provide good customer service it turns out that customers feel positive emotions towards the company. But the outpouring of those emotions lead the sales person to also feel good and positive.In essence, what this research shows is that when you provide good customer service you not only make your customers feel good, but you boost the performance of your staff.
That means if you focus on providing good customer service you will increase your sales because happy sales people sell more.Take a tip from the Games Makers – provide great customer service and you will also feel wonderful yourself.
Related articles